Last week I decided to upload one of my previously developer apps in Flash CS6, Arabic Alphabet, to iTunes. But upon completion of uploading the app, I received the following message:
Your binary is not optimized for iPhone 5. As of May 1, all new iPhone apps and app updates submitted must support the 4-inch display on iPhone 5. All apps must include a launch image of the appropriate size. Learn more about iPhone 5 support by reviewing the iOS Human Interface Guidelines.
This caught me off guard but after addressing this iPhone 5 issue here is my take on this
You have to have at least AIR SDK 3.6 to be able to package for iPhone 5
Make sure to include at least Default-568h@2x.png screen shot of your app with 640×1136 resolution (portrait) to the root folder of your application.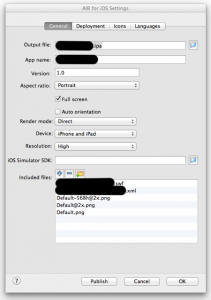 On the other hand if you are using Flash Builder 4.6 with AIR 3.5, here is the link to instructions you should follow to correctly package your app: http://www.adobe.com/devnet/air/articles/launch-images-ios.html
In Flash Builder under Project >> Properties >> Flex (or Actionscript) Build Packaging > Apple iOS > Package Contents, you need to check and include Default-586h@2x.png in the package. You can also check and uncheck any other items you want to be included in the package. All the files that get packaged with the build will be listed under Package Contents.
Hope this will help.